What is a Learning Agenda?
What it means to create a "Learning Agenda" can mean very different things to different people. It can mean creating a list of questions to research, or it can mean developing a capacity-building plan for a particular audience.
In Emergent Learning, a learning agenda maps out a plan to learn as much as we can from our own work in real time around a question that matters to us. A Learning Agenda helps us pose a "What will it take…?" question, identify the work related to that question, express our best starting thinking, plan to experiment around that work, track the results, and adjust our thinking over time, stopping occasionally to reflect on what we've learned so far, in order to adjust our approach and improve our results. The practices of Emergent Learning help make this possible.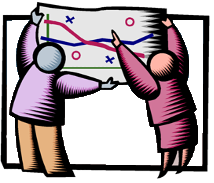 When and how do we use Learning Agendas in Emergent Learning?
It is important to know that a team can do powerful learning without ever creating a learning agenda. For some teams, it's better to just get started wherever you are by doing a BAR of your next meeting, or an AAR of something you want to reflect on. Sometimes it's helpful for the person responsible for supporting a team's learning to create a learning agenda to help them plan to support a team.
Creating a learning agenda with your team can be especially valuable if the team is about to embark on work that matters, where there are lots of unknowns or challenges; where there's a lot at stake; or where your team has stumbled in the past and is committed to getting a better result this time around.
A learning agenda can be used to learn as much as possible from just a few events being conducted by a small team over the course of weeks, or to plan out a year's worth of learning across a multi-layered initiative with funders, grantees, and community partners.
For example:
What will it take to use this next set of community roundtables to ensure that voiced concerns translate into greater agency and involvement in local decision-making for marginalized citizens?
What will it take to use our board meetings to build support for our strategy?
What will it take to ensure that the efforts of every funder, nonprofit and partner in this initiative all contribute to greater health equity in our state?
The Basic Structure of a Learning Agenda
A learning agenda can be tailored to meet your needs, adding or subtracting elements to meet your or your team's needs. At its most basic, a learning agenda includes:
Who (the team doing the work)
Goals and Indicators (of the work at the center of our learning focus)
A Framing Question (to invite everyone involved to think and learn together)
Opportunities (the activities and events that make up our work)
Gathering Points (to make meaning)
It can often be helpful to describe the situation, a starting hypothesis or two, potential data sources, or reporting or knowledge-sharing expectations.
Be creative with what form a learning agenda takes. Some teams love spreadsheets; others love slide decks. But perhaps using a white board or a Miro board with some visually inspiring images will help your team create or engage with the agenda.
Just remember that the learning agenda itself in whatever form it takes is not what matters. What matters is that it helps members of a team engage in meaningful learning around the challenges and opportunities they encounter, so that they not only visibly improve their immediate results, but that they build the learning muscle to tackle their next challenge or opportunity.